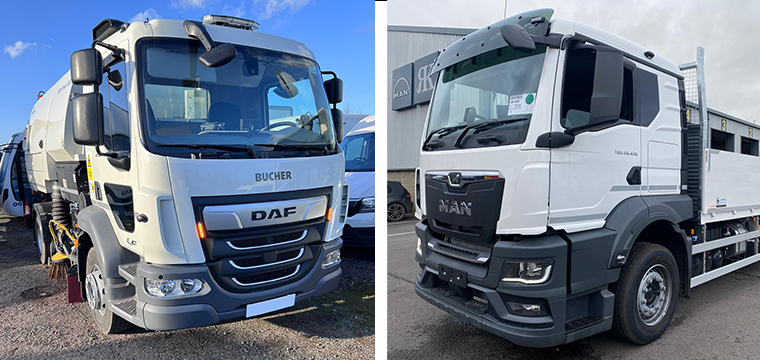 Parksafe has been working in the transport industry for almost 40 years. With experience across HGV fleet hire to municipals vehicles, they provide health and safety kit and compliance tools for commercial businesses. They have collaborated with Close Brothers Vehicle Hire for the past 2 years, typically installing Direct Vision Standard (DVS) fitment requirements and FORS camera systems for customers, both of which are designed to improve the safety of vulnerable road users. FORS camera systems do this by combining a detection system with multi-channel cameras, an in-vehicle monitor and a mobile digital video recorder (MDVR).  This critical kit requires professional, high-quality installation and maintenance.
As safety legislation in the transport sector evolves it is important to have access to compliant vehicle solutions, as well as up to date industry insight. The team at Parksafe have a clear, in-depth understanding of current regulation and actively work with businesses and policy makers to help inform the future laws proposed.
Richard Gosling, Sales Director at Close Brothers Vehicle Hire, highlighted the importance of successful collaborations for projects:
 
"At Close Brothers Vehicle Hire having additional expertise to offer our clients is important. We understand that being dynamic and tailoring our services to meet business need is crucial in this industry. Relationships such as this provides excellent access to quality kit for our customers when they need it."
Liam Barber, Sales & Marketing Director at Parksafe, said:
"If you could write up the perfect partnership, this would be it. Working with Close Brothers Vehicle Hire is great, not only because the proximity of our respective sites allows us to be very responsive and provide turnarounds quickly, but also because both parties strive for customer excellence and satisfaction".
Our respective teams communicate well and understand that in this sector great relationships throughout the supply chain are essential. Things move quickly and are often business-critical so having shared values in how we work together for the clients makes for extremely successful projects."