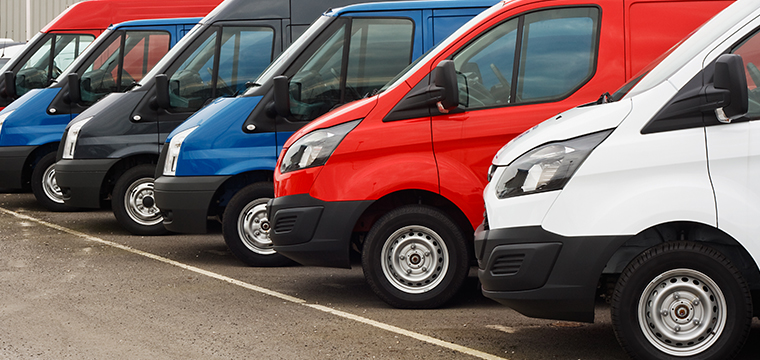 Managing a fleet of vehicles needs to be an efficient process because it can ultimately impact the profitability of a business. However, it can be challenging. 
With the industry constantly evolving and the COVID-19 pandemic continuing to influence decisions, it is now more important than ever for fleet managers to keep on top of these hurdles. 
We discuss five fleet management challenges, and how to overcome them:
Fuel costs and consumption
According to RAC Fuel Watch, petrol and diesel prices have been increasing steadily for several months, making a full tank of fuel nearly £5 more expensive now than at the end of 2020. The cost of fuel can be a major expense for a company running a fleet of vehicles, but prices are very volatile which makes it difficult for fleet managers to predict and forecast this. On average, fuel costs account for 60% of a company's total fleet operating costs. 
Using an interactive vehicle and fleet management system, such as CVS Live, can help improve efficiencies. The software tracks fuel consumption trends, allowing fleet managers to identify areas of over-consumption, and highlight where they can save. This will help eliminate wastage and save on fuel costs. 
Investing in new vehicles
There has been significant uncertainty for business over the last twelve months, whether that be due to the pandemic, Brexit, or the changing environmental regulations. In the road transport and haulage industry, 79% of SMEs say their cash flow has been affected by the pandemic and two fifths say they have missed a business opportunity due to lack of available finance, according to research from the Close Brothers Business Barometer. For some, this has made it more difficult to invest in vehicles and update their fleet.
At Close Brothers Vehicle Hire, we understand the careful balance between costs and updating vehicles. That's why our flexible, comprehensive vehicle solutions can be tailored to support your business requirements. Having fixed monthly costs makes it easier to plan ahead and budget effectively. This can ease the strain on your cash flow and ultimately, make your business more profitable. 
From contract hire to daily rental, and hire plan to sale and leaseback, we've got a solution to help your company through the uncertain times. 
Driver safety
The latest Close Brothers Business Barometer research has also revealed that two fifths of SMEs in the transport and haulage industry are concerned that there is a skills gap in the sector. A further 33% of respondents do not think training for existing staff is the answer to help fill this gap. However, regular training is essential to remain aware of developments in the industry and can encourage better driver behaviour. 
Having built-in safety precautions can be imperative to the safety of drivers. Implementing training programmes can develop skills and highlight areas for improvement. Another method would be to invest in telematics. The technology records data about vehicles on the move and provides automated updates, enabling easy communication with fleet drivers. Telematics enable managers to monitor the driving styles of their workforce, reduce accident rates and increase efficiencies by up to 10%.
Vehicle maintenance
The expense of managing a large fleet can be often be costly, with 55% admitting they are spending more than necessary. However, service and maintenance are vital as vehicles need to be upkept and maintained to stay safe and efficient. 
Our fleet management services include a wide range of support options including breakdown management, maintenance and servicing, vehicle inspections and training packages. Our approach means you only pay for the services your business needs, and you will be given a single point of contact and online control to manage your operation.
Time spent on non-core business tasks
Managing documentation, organising servicing and scheduling routes are crucial for running a fleet of vehicles but can often be a lengthy job. Research by Business Car discovered that 40% of fleet managers spend the majority of their time carrying out these administrative activities, when this time could be spent more productively. 
The right technology can often mean that fleet managers spend less time on these tasks and that the process can be more reliable, effective, and ultimately, result in more profit. Despite this, less than half of fleet managers currently use fleet management software.
CVS Live has been designed to manage your fleet and account all in one place. The single platform has 24/7 access, meaning you can view information on your documents, rental agreements, servicing reminders, general vehicle information and more at anytime and anywhere. Click here to read more benefits of the web-based platform.
To find out more about our comprehensive vehicle solutions, complete an enquiry form on our website or call us today on 08081 151 185.