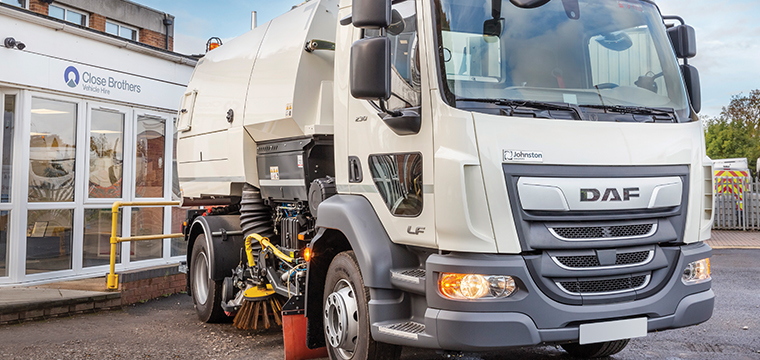 Our customer
Coopers Enviro-Hire Ltd is a family run business based in Staffordshire. Managed by husband and wife, Owain and Laura Cooper, the company offer sweeper hire throughout the east and west midlands and parts of Shropshire.
With a varied client base the team offer services 7 days a week, with gully cleaning equipment and high-pressure jet washing capabilities, the exceptional customer service they offer is a result of the reliability of the operations and expertise offered.
The result
In the past the business has managed their vehicle needs by purchasing second hand sweepers. When looking to expand their fleet the team established that contract hire for a new vehicle, which would include wider maintenance and servicing options, would be an excellent solution for their needs.
Seeking a reliable partner, who could deliver the best vehicle package solution, Close Brothers Vehicle Hire are pleased to provide a DAF LF230 FA 15t Sweeper.
Owain Cooper, Director at Coopers Enviro-Hire Ltd, said:
"Working within the vehicle hire industry means we had a very good idea about Close Brothers Vehicle Hire, with a reputation for reliability.
The package solution offered was extremely competitive, with a lower initial deposit and a seamless onboarding process was fantastic for our team. The level of service before we even received the additional sweeper was fantastic, we highlighted that having the asset sooner would be better for our business and they managed to make it happen."